Back to collection
All of our products are rigorously field tested and we proudly guarantee against defects in materials and craftsmanship.
Ratings & Reviews
Customer Reviews
Filter Reviews:
line
length
material
leash
area
straps
room
Florida
item
something
11/15/2019
stephen u.
United States
Knot a hitch
Really love this she can run all day at the camper and never get tangled up. And it so easy to put up
11/13/2019
Joseph S.
United States
Best Investment for Our Furbaby
We do a lot of camping with our rescue puppy. While she learned to deal with a ground level self-spooling leash, she was not happy about it. The low angle and the constant pull of the spring was uncomfortable for her. The Knot-a-Hitch solved those problems. She has great freedom of movement, secure without the constant pulling, and should she try to chase a squirrel, the Hitch does not jolt her sharply liked the spool leash. As for me, I love the easy set-up and small size when not in use. It takes seconds to put in place. It is made of high quality materials that should last for a long time. Overall - we find this to be an invaluable addition to our gear for our camping trips. Thank You!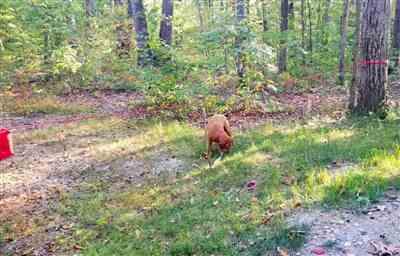 10/28/2019
Michael K.
United States
A great way to keep Boomer close while I fish
Really enjoyed using the Knot-a-Hitch while fly fishing. The unit allowed me to keep Boomer close while I was in the stream fishing. I will use this whenever we are out doing things.
10/23/2019
Aireka R.
United States
Great for Restless Dog
It was super easy to set up. Got 2 anchor points? Great. Need only one? Alright. My dog likes being able to walk around, but tends to get tangled in normal stakes/when we tie his leash to something. This kept him from getting tangled but let him feel included in camp activities while staying safe.
10/09/2019
Nigel P.
United Kingdom
Purchased for our recent camping trip in the UK
It took a couple of attempts to fathom it out - I'm sometimes not the most practical person. But we were soon in business! Due to the lack of trees on the campsite, we attached it to the roof bars on the car at one end and a tent peg in the ground at the other, and it worked a treat. Thank you!