Back to collection
All of our products are rigorously field tested and we proudly guarantee against defects in materials and craftsmanship.
Ratings & Reviews
Customer Reviews
12/18/2019
Rod A.
United Kingdom
Flat out leash
It's ok as a lead. My primary issue is that the lead is too short when used round the waist. I'm a 32" waist and have a very strong shepherd dog, who needs the lead clipping to the from of his harness for best response when he is working scent. The lead is not long enough to allow for this comfortably. We are often bumping into one another! Another 12-15" of length overall would solve this for us. Additionally a sprung/elasticated section incorporated into the design would benefit. I now understand that you have such a lead with a harness belt for the human. I really wish that your sales advisor had mentioned this! Truly disappointed as I would have bought that straight away! This is my main concern - I feel I was poorly advised. The product itself is fine though I only use it as an emergency back up as it doesn't fully meet our needs.
12/07/2019
Rick K.
United States
Rio
Should have got one year's ago!
12/05/2019
Emily H.
United States
Love this leash
We love the leash for hiking! It is durable and secure enough to trust for my larger dog, yet I can easily adjust to wrap the handle around myself or a park bench when taking a break from hiking! Perfect for us. Plus the material cleans up nice with a few scrubs and hot water after a long day on the trail.
12/04/2019
Mike W.
United States
Nice leash but could be more sustainable
These are nice leashes with some nice features such as the ability to briefly tie out your pup, but the buckle can be a weak point, especially if you have a strong dog or one that lunges. Ruffwear will replace the leash, but no repairs are offered, so into the trash most of it goes.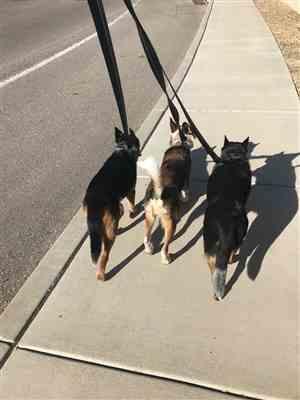 11/27/2019
Rob M.
United States
Ruffwear Gear
I recently purchased several items for my dog Lola. All of the items are constructed of high quality, durable materials. I couldn't be happier. When on walks people often inquire where I got the equipment. I would absolutely recommend Ruffwear to anyone in need of high quality gear for their dog!