Dr. Bronwyn Fullagar is a specialist veterinary surgeon originally from Brisbane, Australia and now based in Canmore, Alberta. She met Arnie, a sweet brindle hound with a fractured hip, during her surgical residency at Ohio State University. After Arnie's total hip replacement, he turned his post-surgical rehabilitation runs into training Bronwyn for her first half marathon. Since then, Arnie and Bron have moved to the Canadian Rockies, where he has proved to be an enthusiastic trail runner, summit scrambler, SUP rider, and skijoring partner. Bronwyn now combines her loves of veterinary surgery and the mountains, working as a specialist surgeon in clinics across North America and Australia, teaching surgery to other veterinarians and volunteering for animal charities overseas. When not working in the veterinary clinic, you can find Bronwyn and Arnie exploring the backcountry on foot or on skis – just listen for Arnie's characteristic barks to go faster!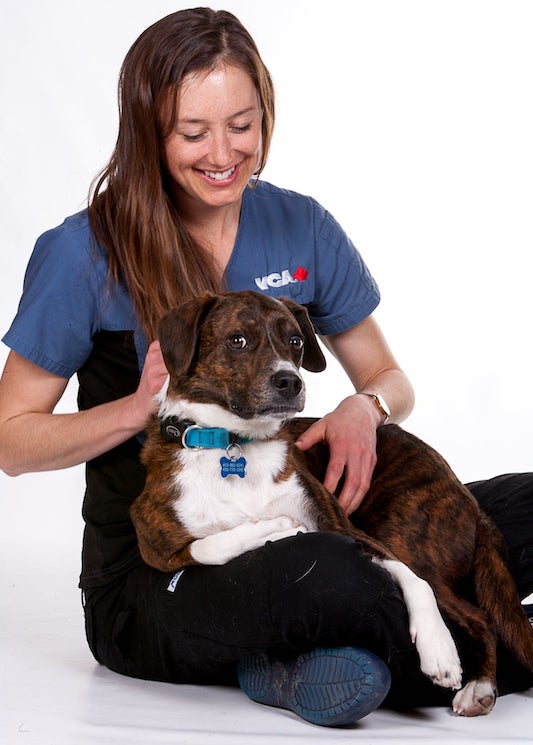 " Arnie is the ultimate adventure partner. His unadulterated joy at the idea of getting outside for any activity, in any weather, continues to inspire me to explore new wild places and reminds me why I fell in love with the mountains, and with running. "
-Bronwyn
Featured Story
Tips for Cold Weather Adventures and First Aid for Dogs
Bronwyn Fullagar offers a few safety considerations for powder hounds, so that you can have a howling good time without having to end the day at the veterinary clinic!