All of our products are rigorously field tested and we proudly guarantee against defects in materials and craftsmanship.
Ratings & Reviews
Customer Reviews
12/24/2019
Christine B.
United Kingdom
Worth it
Another great piece of kit from Ruffwear. Have taken various mats for the dog in past but for camping its all normally a faff. This is neat and light and works in many situations.
11/04/2019
Rachel M.
United States
Perfect!
I use this for my service dog when we are in one place for a long time. It gives him a nice spot to lay down and is super light to carry in my backpack behind my wheelchair!
10/18/2019
Erin C.
United States
Amazingly portable, durable, and comfortable
I have a service dog, so it's important for me to always have a mobile mat/bed for my dog. This bed is a great option for me because it's very easy to clean and to travel with. My dog approves of it, too!
10/18/2019
Kira E.
United States
LOVE
Purchased two highland beds and the two mats for backpacking and car camping. I love them, they make a significant difference in keeping my dogs warm on a cold night (mostly by providing good insulation from the cold ground). Really put them to the test on a recent backpacking trip where is snowed unexpectedly, I felt like it really helped them stay comfortable. Packs well into their packs so they can carry their own gear.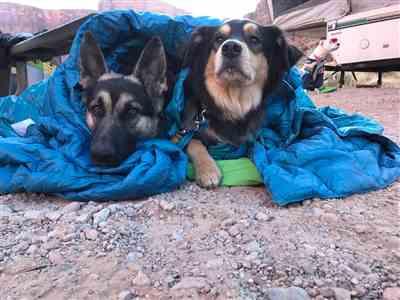 09/19/2019
Arielle H.
United States
This is my completely-lost-without-it item!
TL;DR: LOVE THIS MAT. This is the best mat for service dog handlers! Lightweight, easy to clean, and big enough for my 40 and 50lb dogs! I am a student and this mat keeps my service dog comfortable through all of my classes! It is ideal for airplane travel and long road trips. This is the piece of gear I recommend most often when people ask me "what's the number one accessory I need for my service dog?"