All of our products are rigorously field tested and we proudly guarantee against defects in materials and craftsmanship.
Ratings & Reviews
Customer Reviews
KP
06/10/2019
Kate P.
United Kingdom
Perfect for Leonberger puppy
It is just right for my Leonberger puppy, so I can have my adult Leonberger on one side, puppy on the other, and still be able to have a hand free if needed. Very easy to put on. I use with the crag collar, my adult uses the chain reaction collar. All ruffwear products that we have used are great. Thank you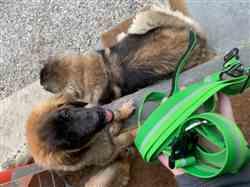 Thanks kate! What a beautiful dog!
11/14/2018
Samantha C.
United States
Versatile leash
It's easy to adjust and the clip is really sturdy, but actually pretty light and not bulky. The leash material is not as durable and thick as I had expected, but it's at least doubled up to make it sturdier.
JH
11/08/2018
Jade H.
United States
This is the best model hands down!
I've used three different hands-free leashes - a European style lead, one like the Slackline from another company, and now the Slackline. This one is hands down the best! We use it with a Front Range or Webmaster harness. It's much lighter than I thought it would be - all the metal gear is super light but durable. It adjusts easily and fits just about any waist size, and I'm not a small person. I'm giving two stars for only two things. I wish there was a handle built in on the handle itself (at the end) where perhaps the material is double padded, rather than having to unclip, adjust, and then re-clip the leash. Because I use it waist worn or handheld and don't adjust too much, it would be nice to have the option of just leaving the talon hook in place if I use it as a handheld leash so I don't have to re-adjust each time. The second part is that the scissor clip is great... if you're using two hands. Otherwise, it can be difficult to put the leash on with just one hand, particularly with a springy dog. I do wish it came in a thinner length, as I have one smaller dog as well as a large one, and I prefer the 1/2 inch width for most things, but that's a matter of personal preference. I'm sad ruffwear is removing the talon hook, as you can tell that it's just much more sturdy this way. All in all, get thus model while you can!
10/21/2018
Shannon G.
United States
Love the two adjustment points
Love the two adjustment points and ability to make it a multi way leash. The metal latch can be a little difficult to work until it's broken in a little.
10/18/2018
Jacqueline H.
United States
A leash is a leash, right?
Well, I was wrong. I LOVE this leash. I really only use the longest adjustment but no matter what length you adjust it to, it doesn't creep longer. The longest setting is the perfect length for my pup to be able to walk right next to me (keeping my hands in my pockets) and still not step over the leash with maximum exploring room. The metal talon clip is really sturdy, as are the length adjusting slide and scissor clip. The reflective strip, even when hit with dim light, is BRIGHT and the padded handle is soft and easy to hold in hand or slung around my wrist for hours. I would recommend this leash to absolutely everyone who ever takes a dog on a walk. It makes an already fun experience even more awesome. Though if I did have 1 complaint, it's that it doesn't come in orange for walking in the woods during hunting season.