All of our products are rigorously field tested and we proudly guarantee against defects in materials and craftsmanship.
Ratings & Reviews
Customer Reviews
Filter Reviews:
products
Ruffwear
harness
quality
dogs
car rides
trips
road
case
11/27/2019
Kayla F.
United States
Amazing harness!
After much research, I decided to order the Load Up restraint harnesses for my girls. I was worried about safety first, as well fit and durability. The Load Up fit the bill. It's perfect and comfortable. My girls get so excited when I get them out. My girls are so comfortable when riding in the truck now and they're perfectly safe. I'm so glad I got these harnesses for them!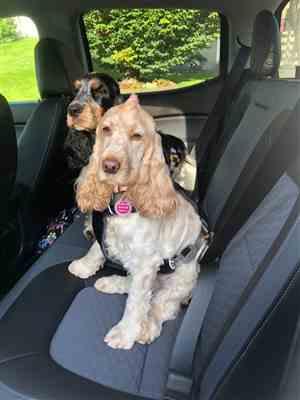 11/24/2019
Joseph M.
United States
Don't Get In the Car Without the Load Up Harness
Easily adjustable. Quick to put and comfortable. Provides stability from fast stops and sharp turns. Allie enjoys wearing a safety harness. It provides her a real sense of security. Not to mention that it also makes me feel better knowing she is protected from an ejection or violent crash. It is instantly usable in any vehicle that has safety belts. We don't leave home without it... never.
11/22/2019
Gracie
United States
11/21/2019
Amanda C.
United States
Would Recommend
This is a great harness for us, but likely wouldn't work for dogs who move in the car. We have the Ruffwear car hammock and love it, but in advance of a recent long road trip, started thinking more about safety. We never thought much about a dog being ejected from the vehicle or being tossed in the vehicle during an accident. On our second day of acclimating/desensitizing our pup to the harness in advance of our road trip, someone turned in front of us and we slammed on the breaks and she absolutely would have hit the seat in front if she wasn't restrained in this harness. We use it for every car ride now. We still use the hammock for when we do leave her in the car (in cool temps only). I did not give this five stars for two reasons, one is that our dog is longer in body length (think daschund or corgi but she's 36 lbs), so the attachment loop does not sit low on her. Because of this, she gets easily tangled. Fortunately that is only when we park and she pops up. She lays sideways the rest of the time in the car. Secondly, it is difficult to get the harness adjusted correctly, the head opening is super snug, and there isn't anyway to use this with a lead (which I assume is intentional so it doesn't get worn out) so it is an extra piece of pup gear and a bit of a pain to transition from car to the world. However, we are so glad to be able to afford this for our pups safety and that of our passengers. Ruffwear seems to be a great company,too!
11/16/2019
Melissa P.
United States
Load Up Dog Car Harness
I purchased 2 of these, a small for my malinois puppy(50 lbs) and a large for my senior rottweiler (95 lbs). They were already behaved in the car with staying in the back, but I wanted them to stay in one seat and not fall out the seat if I have to stop suddenly. This harness is great at keeping them both seated and secured for the whole ride. They can comfortably sit, stand and lay in their seat. I have not had any problems with them becoming tangled in the seatbelt as I lock the belt in place like I would for a carseat. They can even wear the harness all day without damage to their skin and fur. The harness is easy to adjust and put on and off. I was able to teach everyone in the house how to use the harness properly. I do not have anything negative to say about the harnesses at this time. Overall I am very pleased with this harness!