Theresa is a music teacher and outdoor enthusiast currently based in Portland, Oregon. Her favorite outdoor activities are mountaineering, trail running, and skiing. She loves getting outside as often as possible with her partner, Mack, and their adventure pup, Cascade (aka Cassie). Although Cassie enjoys trail running and chasing down her humans while they ski, her favorite activities are playing fetch, chasing squirrels, and receiving belly rubs.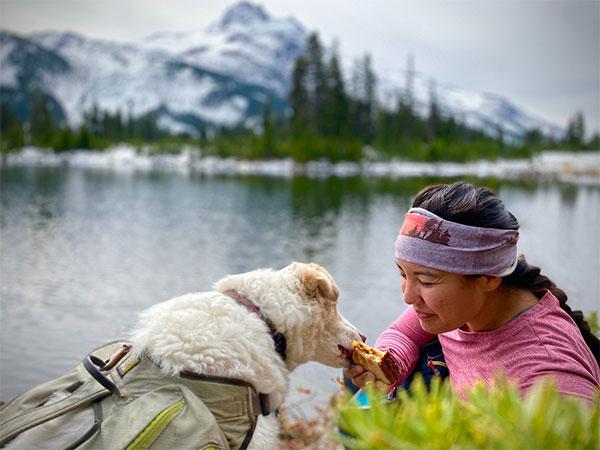 " Cassie is great at consistently reminding me that any time spent outside is a gift to be appreciated and cherished. Although I love having her join me for long trail runs or early morning dawn patrol ski tours, she also loves the simple things like playing fetch in the backyard and going on leisurely neighborhood strolls to sniff something every two seconds. I am often guilty of getting wrapped up in how 'epic' I want my outdoor adventures to be. Over the years, Cassie has inspired me to slow down and reframe my understanding of what it means to be 'outdoorsy.' "
-Theresa
Featured Stories
Snow Camping With Theresa & Cassie

"The crisp morning air jolted me awake after a fitful night of sleeping in the snow. I took a deep breath, exhaling a misty cloud before pulling my sleeping bag even more tightly over my face. Cassie lay beside me, snug and warm in her Jacket, cozily pressed up against my sleeping bag for extra insulation."

Get to Know Theresa and Cassie

Read this interview to learn more about the opportunities Theresa's creating for women of color in the outdoors and how she and Cassie enjoy the outdoors together.